Delightfully spooky, hauntingly happy. It's just about time to start digging out the dusty box of ghostly decor and crafting the perfect menu for your All Hallows' Eve party. We've rounded up a few of our favorite recipes to complete your evening, with a little something for everyone, sweet, salty, healthy, creepy, and always delicious.
Homemade brandied cherries are sweet and fruity. Their booziness is fantastic in cocktails, or added to desserts. They are easy to make and fantastic to preserve!
15 minutes, Serves 32
Ingredients
Produce
1 lb Sweet cherries
Baking & Spices
2 cups Cane sugar
1 Vanilla bean
Beer, Wine & Liquor
1 cup Brandy
Liquids
1 cup Water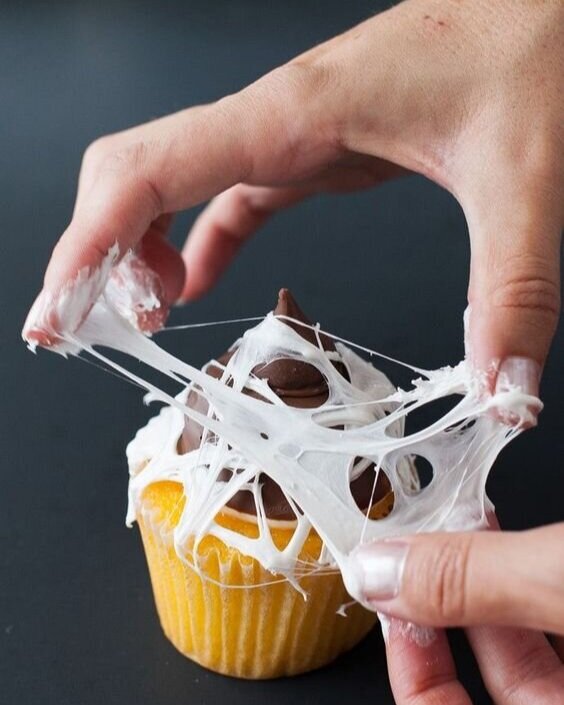 2. Marshmellow Web
Cupcake Topper
Top your cupcakes with a ghostly marshmallow web this Halloween! These cupcakes are covered in marshmallow "webbing" that is made by melting down mini marshmallows and using your fingers to stretch the gooey mixture over a Hershey's Kiss topped chocolate frosted cupcake.
3. Honey Roasted Pumpkin Seeds
A Halloween classic that never gets old. These Honey Roasted Pumpkin Seeds are healthy, naturally sweetened way to enjoy the leftovers from your pumpkin carving party. With a heavy dash of cinnamon they'll be enjoyed by both kids and adults alike!
4. Haunted Orchard Cocktail
The Haunted Orchard Cocktail was inspired by the Legend of Sleepy Hallows. Combine tequila, a splash of lemon, apple cider, a teensy bit of maple syrup, ginger and cinnamon in a glass then top with sparkling hard cider. A punch style drink it's easily serves a crowd!
It's all in the name. This rich and decadent mud pie is equal parts creepy and delicious and makes for the perfect centerpiece for your Halloween party.
Total Cook Time: 1hr 20 minutes
6. Totoro Pumpkin
Cheesecake Bars
Looking for something unique and easy to make this Halloween? These Totoro shaped Cheesecake Bars will do the trick! They do not require you to turn on your oven, are made with minimal ingredients and are adorable - oh, and not to mention are pumpkin flavored!
7. BALSAMIC ROASTED CARROTS AND GREEN BEANS
I never really thought of carrots and green beans as "creepy" before now. Not only is this dish healthy, but it's an easy way to get an extra side in for holiday dinners if you're pressed for time. Combine with a ghoulish plate and voila - savory Halloween dish complete!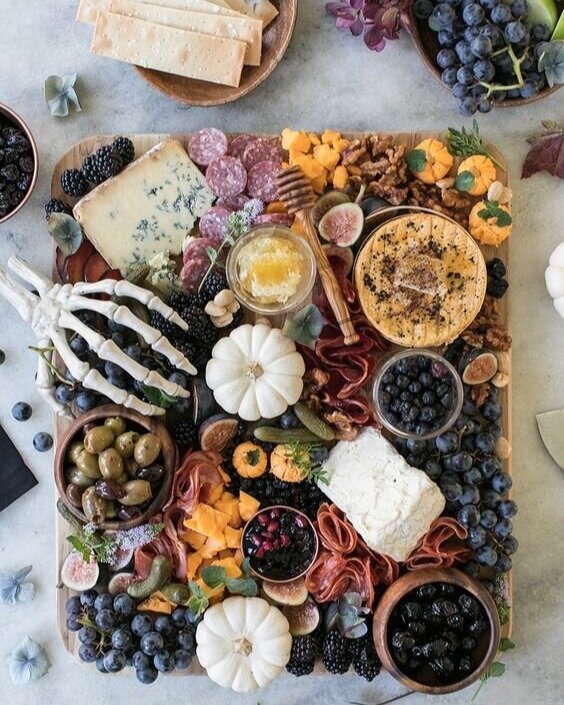 8. Perfectly Spooky
Charcutrie Board
We here at F10 think that charcuterie boards are always a good idea. Combine your favorite fruits, vegetables, cheeses and cured meats with some beautiful gourds and that spare skeleton hand you have lying around and you're all set.